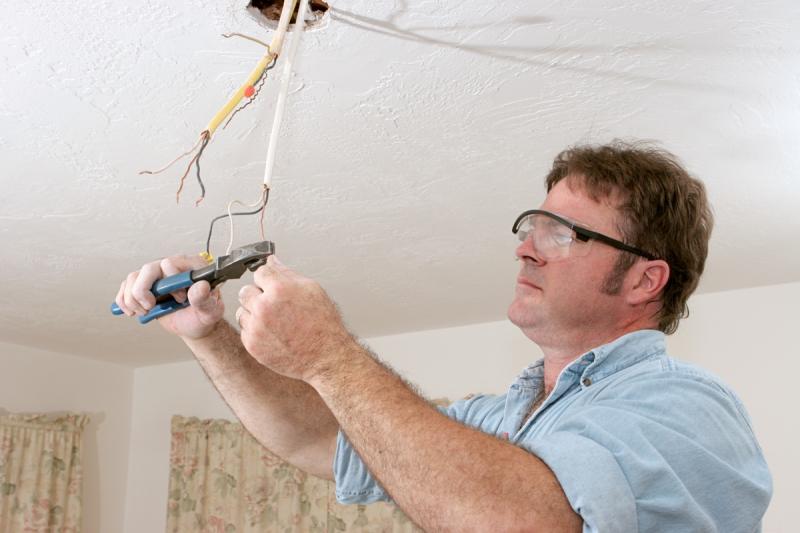 Fayetteville Electrical Installations
Many Fayetteville area homeowners rely on Mister Sparky to handle all of their electrical installation needs. Our qualified, trained electricians routinely handle an array of electrical installation jobs from house fans and ceiling fans to phone and cable wiring. If you're experiencing hot outlets or switchplates, buzzing noises, or smoke smells, it might be time to call Mister Sparky for a brand new installation that you can rely on. Whether you need new exhaust fans, light switches and dimmers, or a new speaker system wiring installation, we can handle it all. 
Electrical System Upgrades
It's important to keep your home's electrical panels updated because it can have dangerous affects if updates are neglected. For example, a couple signs of needing an electrical upgrade is dimming lights when turning on other appliances and frequent circuit breaker trips. This happens to protect the home from becoming too hot and catching fire from overloaded appliances. The older the home, the older the electrical system and the more likely for dangerous situations that are easily avoidable by calling a professional electrician at Mister Sparky to help with all your new electrical panel upgrades. Once your system is upgraded by an expert electrician, you'll be able to sleep much easier knowing your family is safe. 
Electrical Remodeling
Remodeling can be a very exciting time, but also very stressful especially when it comes to complicated electrical installations. Our team at Mister Sparky can take all that stress off your hands and effectively install your new electrical wiring whether you're doing a kitchen remodel, bathroom remodel, master bedroom, office, or home theater. Our number one focus is your safety and we guarantee to deliver only the best results that you can rely on for years. We want to add to the excitement of a home remodel, not take away from it. From basement remodeling and appliance outlet installation to recessed lighting and outdoor lighting, we have all the right tools and electricians to provide the highest quality results.  
Why Call a Professional Electrician for Your Home Installations?
It's not always easy when dealing with an electrical problem. In fact, it can be dangerous if not handled by an experienced, professional electrician with all the proper tools to effectively solve the issue. For example, if your wiring or rewiring is not done by an experienced electrician, the wiring could be defective leading to a potential fire or electrocution. With complicated wiring installation, it's important to only trust certified electricians to get the job done right so you and your family can be safe. At Mister Sparky, all of our electricians are highly qualified and your safety is our number one priority.  
If you need upgraded wiring, new electrical panels, or security system wiring, call (Sorry, we are unavailable) today for professional, reliable, and safe electrical installations in the Fayetteville area!